Miami Strip Clubs / Gentlemen's Adult Clubs
Booby Trap has 3 locations in Miami and 1 location in Pompano Beach.
Booby Trap Doral and Booby Trap On the River have 100 entertainers. 
BT'S Gentlemen's Club and Booby Pompano Beach have 50 entertainers. 
All Clubs have VIP Bottle sections and Private Rooms. 
All our Miami Strip Clubs have a Great Free Lunch, as does our Strip Club in Pompano Beach.
 Miami Best Full Nude Strippers Club
We definitely have the best entertainers from the USA, South America, and Europe.  
It's a United Nations of the Most Beautiful Woman in the World gracing the poles.
Come and join us to see for yourself. Booby Trap is a great place to invite friends and just have a relaxing moment from a stressful day.
Bring your favorite clients, for business lunches. Many a deal have been closed at one of our clubs. 
Click on each Club Logo above, to see all the information, Happy Hours, Drink Specials, VIP Rooms, entertainers, etc. 
Which are the best strip clubs in Miami and Pompano Beach?
Booby Trap is the best choice for adult entertainment, with 3 locations in Miami to choose from and 1 in Pompano Beach. We invite many of the top DJ's in the industry and top entertainers to join us in our celebrations. Miami is definitely the capital of Gentlemen's Adult Entertainment. Come join us and enjoy our LED light, laser and sound system shows blasting rock, uptempo house and many genres for the most exciting club experience you may have in Miami.
 
Rated #1 Bachelor Party Venue
Miami Strip Clubs
Forth of July Weekend we have great celebrations in all of our clubs.
July 1st with FAT JOE after hours, July 2nd DJ CAMILIO and July 3rd DJ SPINKING 
You can go to the top of our website and click on the logo of any preferred club location near you.
We encourage you to visit all our locations where we offer the same exceptional service.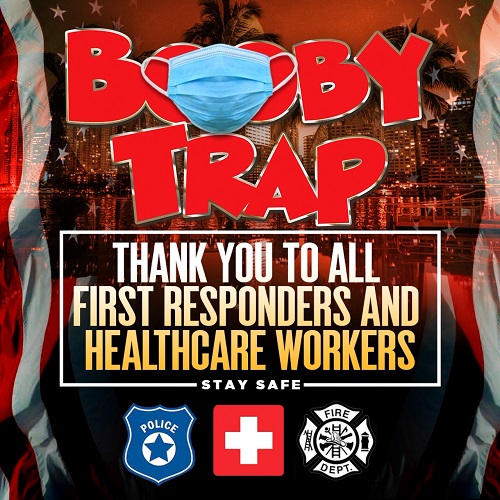 3615 NW S River Dr, Miami, FL 33142- Open 24/7
5922 S Dixie Hwy, South Miami,
FL 33143
2840 Hammondville Rd,
Pompano Beach, FL 33069
5325 NW 77th Ave, Doral, FL 33166