---

Best Full Nude Strip Club Doral Area
Booby Trap Doral Area Opens Monday to Sunday
12 noon -  5 a.m.
Happy Hour 12 noon - 7 p.m. drinks 2 for 1
Over 100 entertainers Daily. $150 Bottles 12-7pm, Free Lunch 12-5pm Daily...full kitchen.
We have 8 VIP Bottle sections, were clients can come with their friends and enjoy an area where they may want a quieter experience and be treated as VIP'S, we also have 10 private rooms for a slightly more intimate experience with one of our entertainers.
Booby Trap Doral
Best Strippers from USA, South America and Europe.
Every day 12 to 7 p.m.
Bottle Specials $150 Hennessy, Grey Goose and Black Label
Open Auditions
For Quality Entertainers
Bucket Special
$100 5 BEERS OF YOUR CHOICE
Plus a small bottle of Don Julio or Fireball
Every Monday
All-day and night 1/2 Off Drinks
Great FREE Lunch, plus check out our Specials two-for-one drinks.
Its a United Nations of the Most Beautiful Woman in the World gracing the poles.
Booby Trap is a Great place to celebrate any occasion, like Birthdays, Bachelor Parties, or just take a Friend to wind down from the weeks hectic schedule.
If you live in the Doral Area and are looking for the nearest Strip club, you have found it. We are considered the Best Strip Club of the Doral Area.
Mondays Suck A Bit Less Here
Ask us about Happy Hump Day
Game On Watch All The Games Here Game Night Bottle Specials $150 , Sunday and Monday Only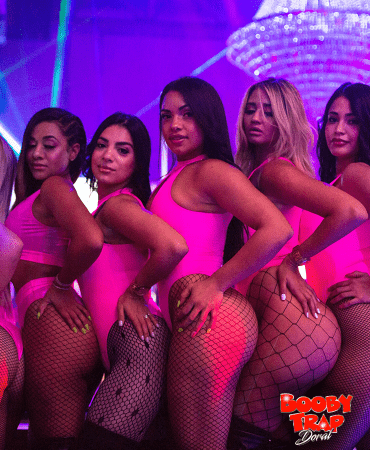 All reserved rights 2019 - Sitemap |